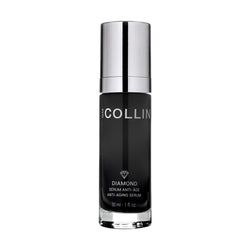 Combining cutting-edge technology and refinement, the Diamond collection is formulated with a synergy of precious diamond powder, a peptide complex and snow algae to achieve a divinely radiant complexion and visibly younger skin.
This energy packed anti-aging elixir:
Revitalizes the skin and visibly reduces the signs of aging.
Improves the skin's grain and texture while visibly increasing its luminosity.
Reinforces the skin's hydration barrier.
Apply the quantity best suited to your individual skin type followed by G.M. Collin Diamond cream.
Frequency: Morning and/or evening.
INDICAZIONI PER LA RACCOLTA DIFFERENZIATA
Le istruzioni di seguito ti aiutano ad identificare il materiale degli imballaggi e a svolgere correttamente la raccolta differenziata. Le indicazioni possono variare localmente: verifica le disposizioni del tuo Comune. Separa solo le componenti separabili manualmente e conferiscile in modo corretto. Svuota l'imballaggio del suo contenuto prima di conferirlo in raccolta differenziata.